Workshop visit
How do you like to work? For the LA-based artist and designer, mostly shoeless. "Always barefoot," she says from her studio in Los Feliz. Whether creating a multimedia piece on canvas, scalloping furniture in its signature blend of vibrant tones and botanical patterns, or transforming the exterior of a motorhome into a sunset gradient reminiscent of his home in Joshua Tree, Reed's work reflects his cheerfulness. spirit. "I like to get away from the things that are close to me," she says. "If the work is personal, it's so much more interesting.


By Nate Storey
Pictures of Maggie Shannon
Produced by Surface Studios for Room
August 24, 2022
ROOM's sleek, soundproof cybertecture modules offer balm for the nightmarish open-plan offices of the past decade and open up a world of possibilities for the post-pandemic future. ROOM's signature phone booth has played a pivotal role in realizing Surface's dream of working in an art gallery over the past year in Miami's Design District. Like a portal of concentration for zooms, phone calls and creative white space, every day our staff and visitors rely on the Modular Booth to complete tasks large and small.
Here we team up with ROOM to take a look inside the workspace of LA artist CK Reed who also designed his dream print for one of the brand's phone booths. Inspired by the Californian plants around CK's home and studio in Los Feliz, the print reflects the artist's daily walks. Colourful, eclectic and abundant, the visual blend of the pattern represents the spirit of harmonious living.
What are your favorite sources of inspiration?
Before starting a design, I like to leaf through books in my garage. I used to work on a TV show [as a set designer] and at the end of the season, I brought home all the design books from the art department. Books on French design of the 1800s or on interiors in China, from all over the world. So I'm going open one and flip through it. I especially love the photos of Slim Aarons by the pool. Anytime, anytime.
What are your hacks for overcoming creative obstacles?
I like to run to take a break and enjoy Los Feliz, my neighborhood. I live in a very beautiful place, but sometimes I forget so I try to go out.
Is your creative process more ritualistic or free-form?
I start by leafing through the books, then I take out my sketchbook. As I have ideas, I will make small quick drawings. I'm usually sitting in my driveway in the sun with the music playing. I make sure to have fun. I don't want it to be like "oh, I have to sit down and figure this out". Once you have that kind of pressure, it's over. Nothing good comes of it. I keep a creative mindset instead of a stressful work mindset and try to remember why I'm doing it in the first place.
As I draw, I come to a point where I have an idea and it takes off. Then I run with it. I like to get away from things that are close to me. My neighborhood. One of my favorite places is Joshua Tree. If the work is personal and has a narrative, it's so much more interesting.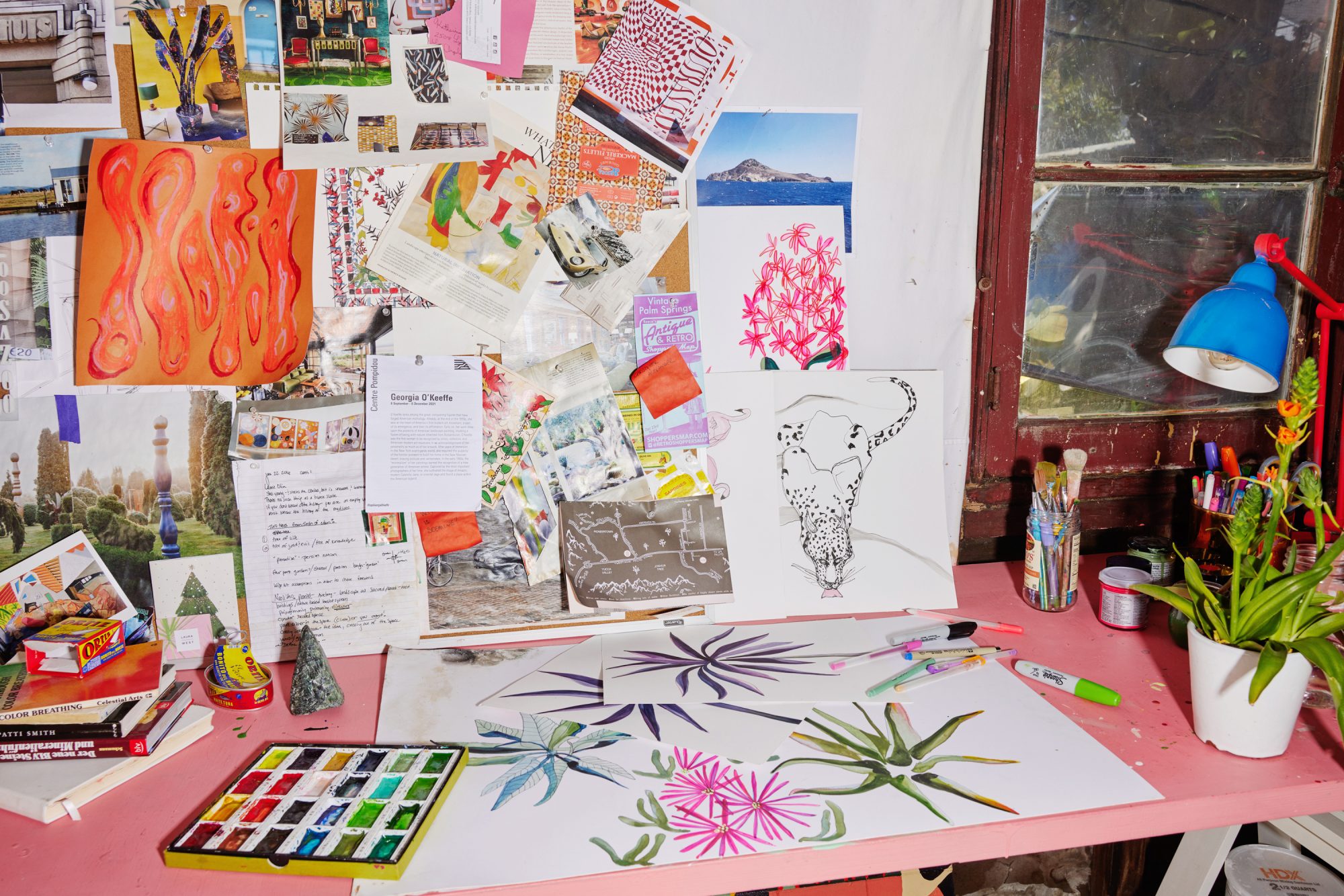 What do you think this does for the end result? Is it tangible?
I can make a difference and I think other people can too. After working for years as a corporate textile designer, I decided that I would only ever do meaningless shit because it's colorful and attractive. I don't do that anymore. People will buy it, but they can tell when there's heart and soul in a design. It goes with all parts of life. If you phone him or scam someone else, it's pretty obvious. It won't be that interesting to watch either.
A friend of mine constantly referred to Christopher Alexander. He wrote a book called A template language. Often we look at something beautiful and we cannot explain why it is so beautiful. But if you break it down, there are ways to emphasize certain things – the balance of colors and patterns. And that's kind of what the study of textile design is all about. Most of my work has a pattern and a rhythm, and it usually comes from my background.
Are you more structured or loose when creating?
Generally loose. But when I watch it at the end, I see some of the same trends. A lot of this is repetition. I like to do things that have repetitions or boundaries. It's pleasing to me. But I do one thing that is very important: when I'm at work, I try to mess up what I'm doing.
What do you mean?
Say I'm drawing and it's starting to look good. I'm going to do something like take a color and paint whatever comes to mind. Trying your luck. It could either ruin it or make it better, but I make sure it's not something sure. I want to see what happens and that's usually what takes it to the next level.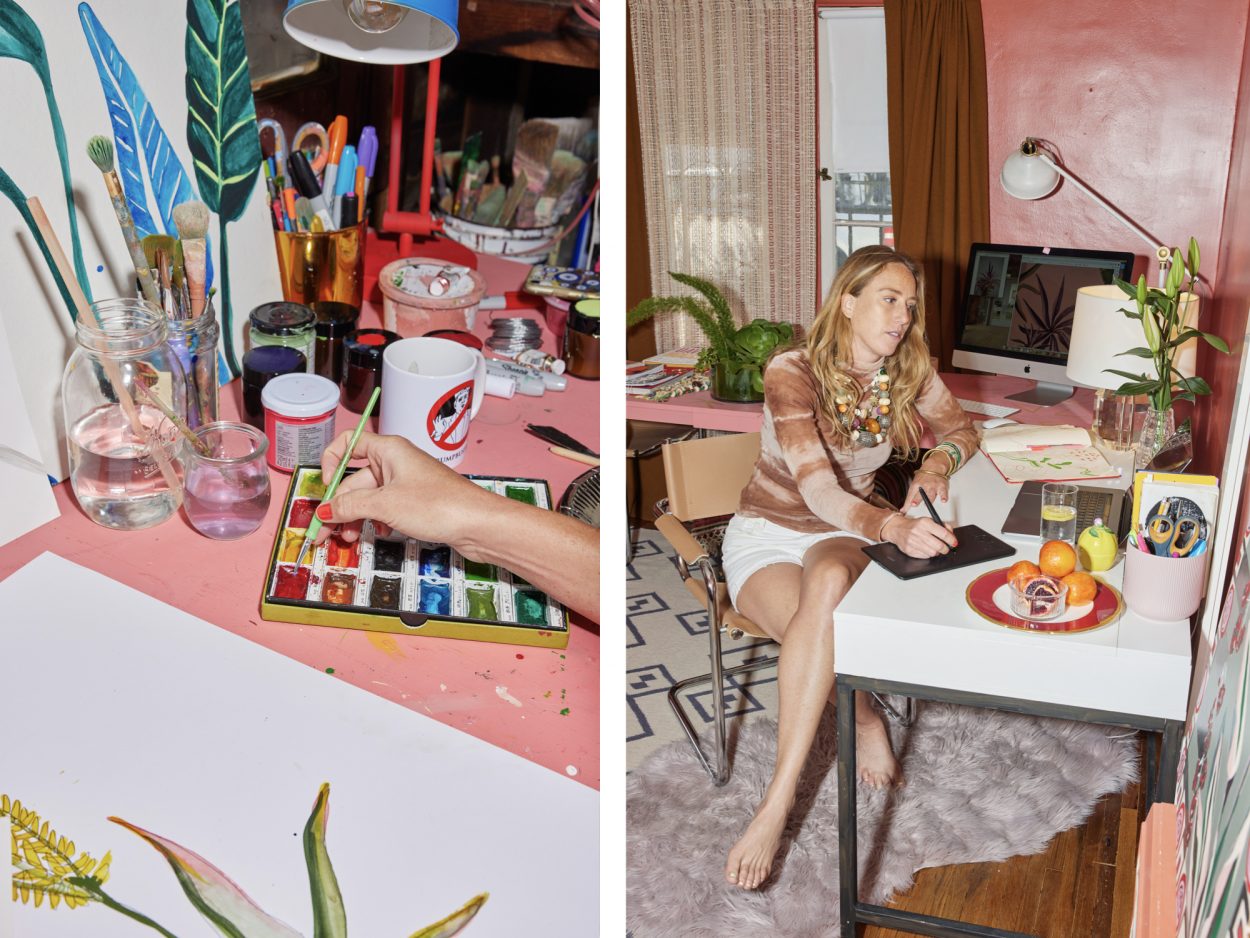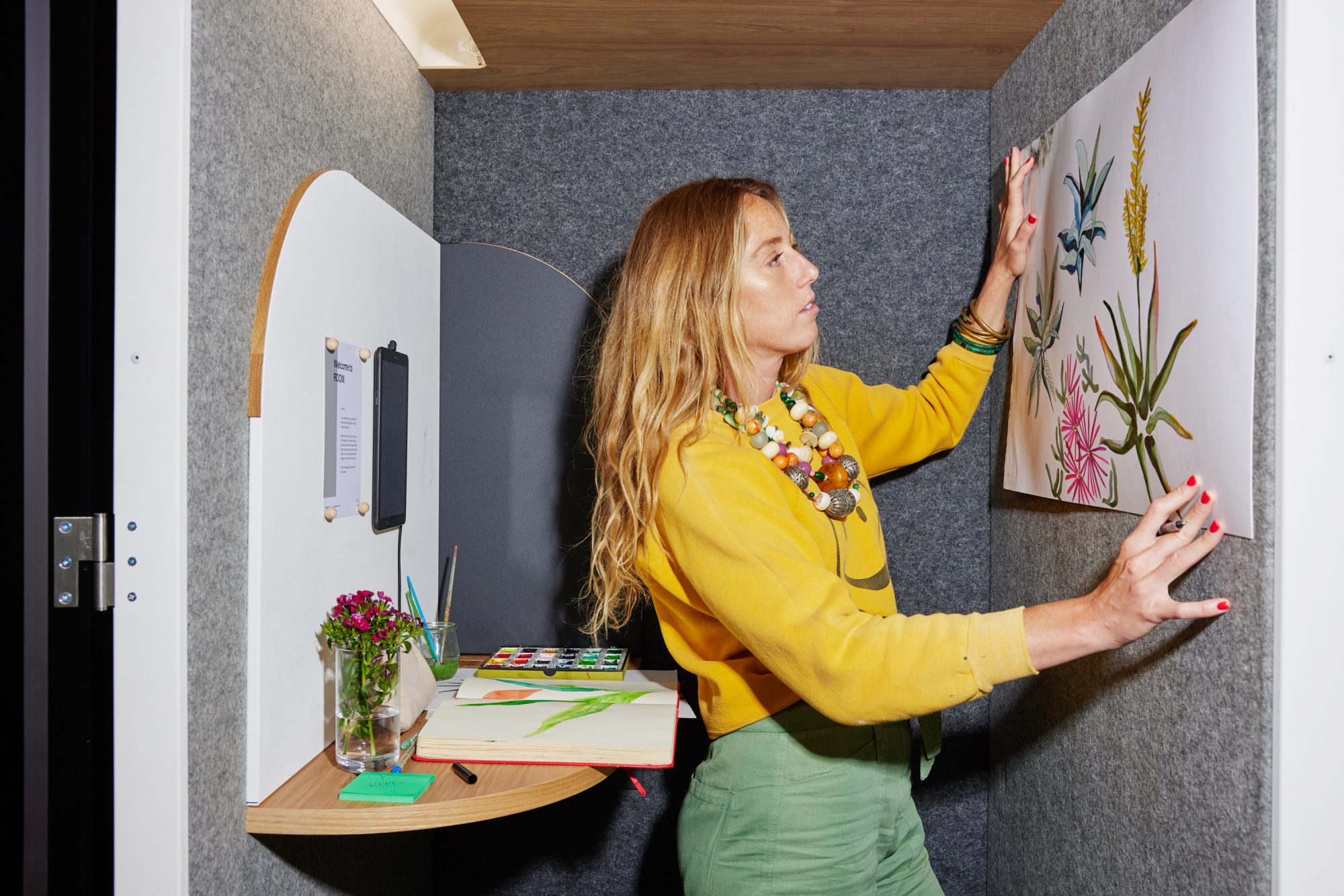 What kind of music do you listen to when you work?
I have a playlist called "Working" which is pretty quiet, huh, I wouldn't say quiet, it's kind of like exotic or you know, loungy stuff. That's how I start, but it changes depending on my mood. I really like to play loud rock like Depeche Mode. Have you heard Jane from Jefferson Starship?
No.
Oh my God. You would hate it! But it was my most played song last year.
Okay now I have to listen!
Hot in the sun, blasting rock music and making a mess. I don't really wear nice clothes. Everything is covered in paint because I'm going to paint and want to fix something or move on to another project in my garage and then go back.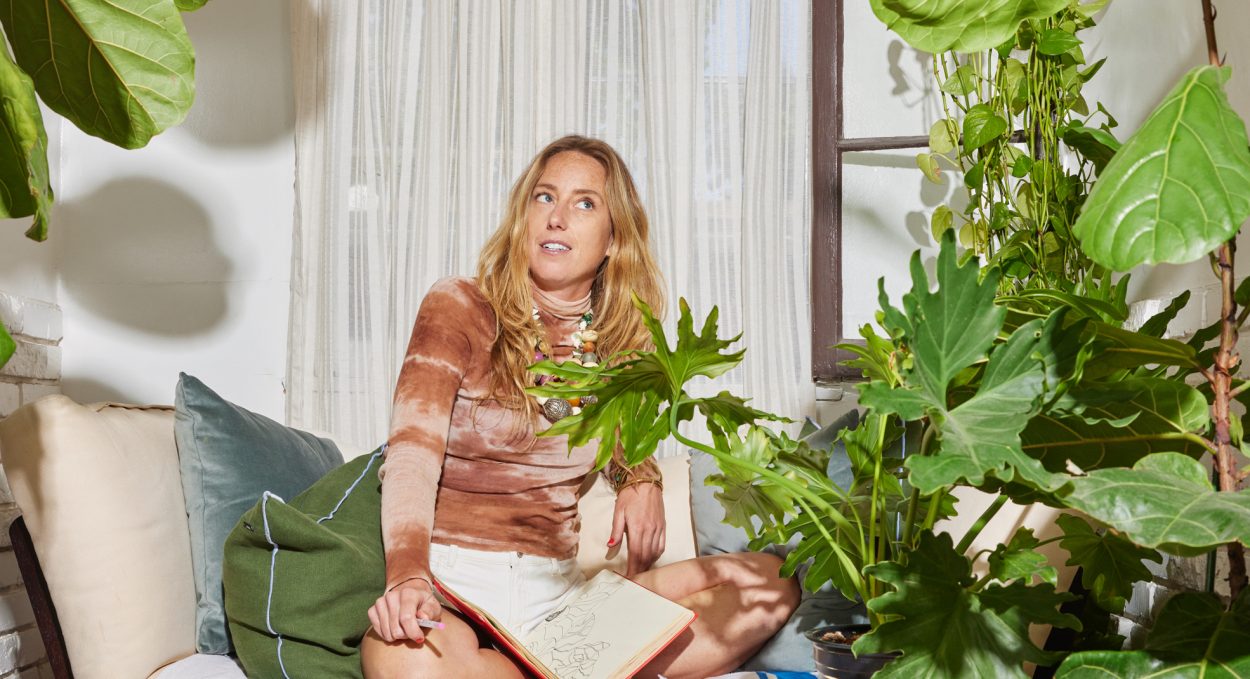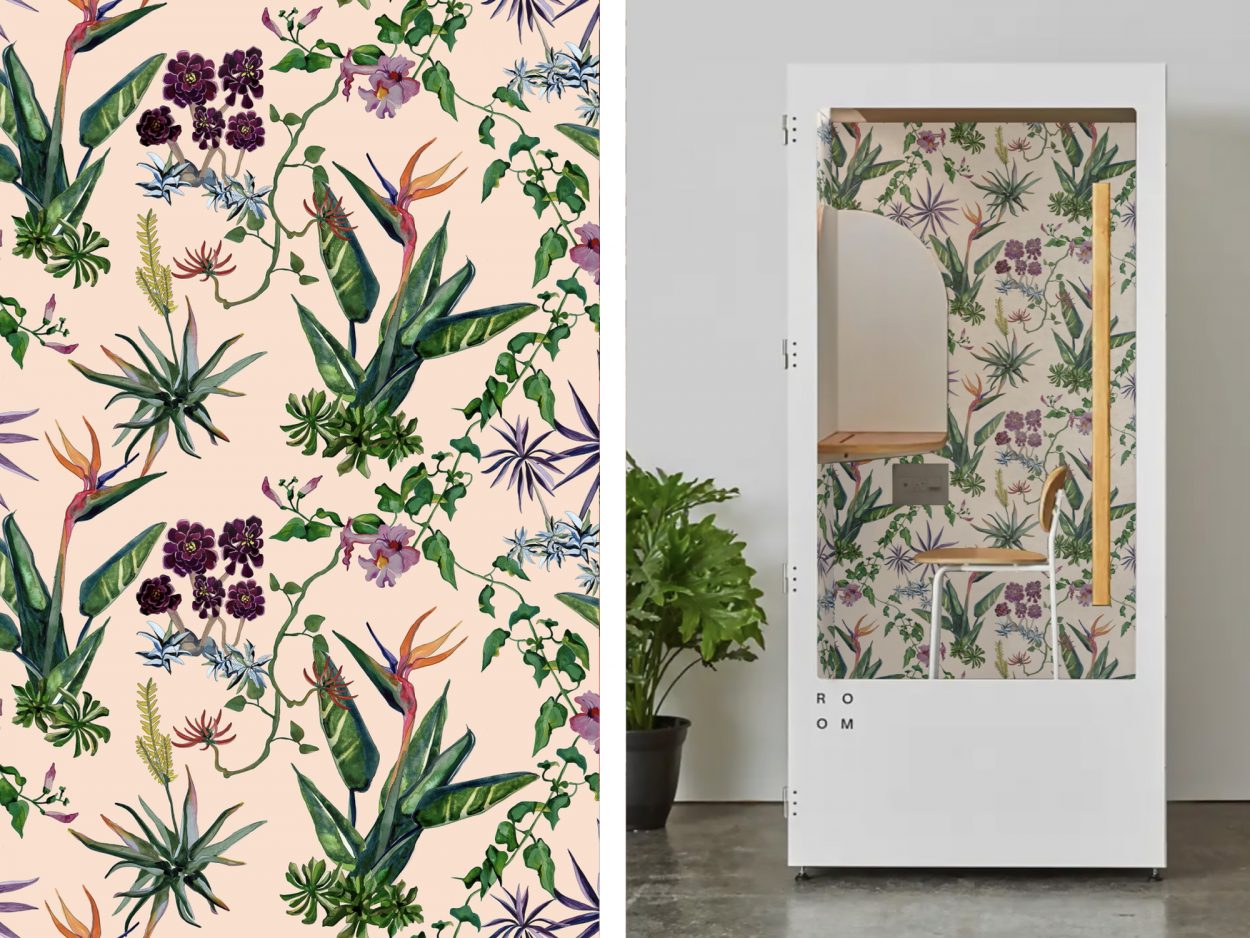 Bare feet or shoes?
Barefoot. And there are nails and broken glass, but I've never been cut. I have no problem for any reason. The exterminator came by and I was walking around barefoot and he said "where are you from?" He thought I grew up on a farm because I walked on wood chips and rocks.
The workshop is often a haven of peace for artists and designers. What has been your experience in more traditional office environments?
The workplace has always been such a disappointment and I think if it wasn't so dismal, maybe I wouldn't have hated my corporate job so much. Big companies just want you to produce, they don't care about your environment.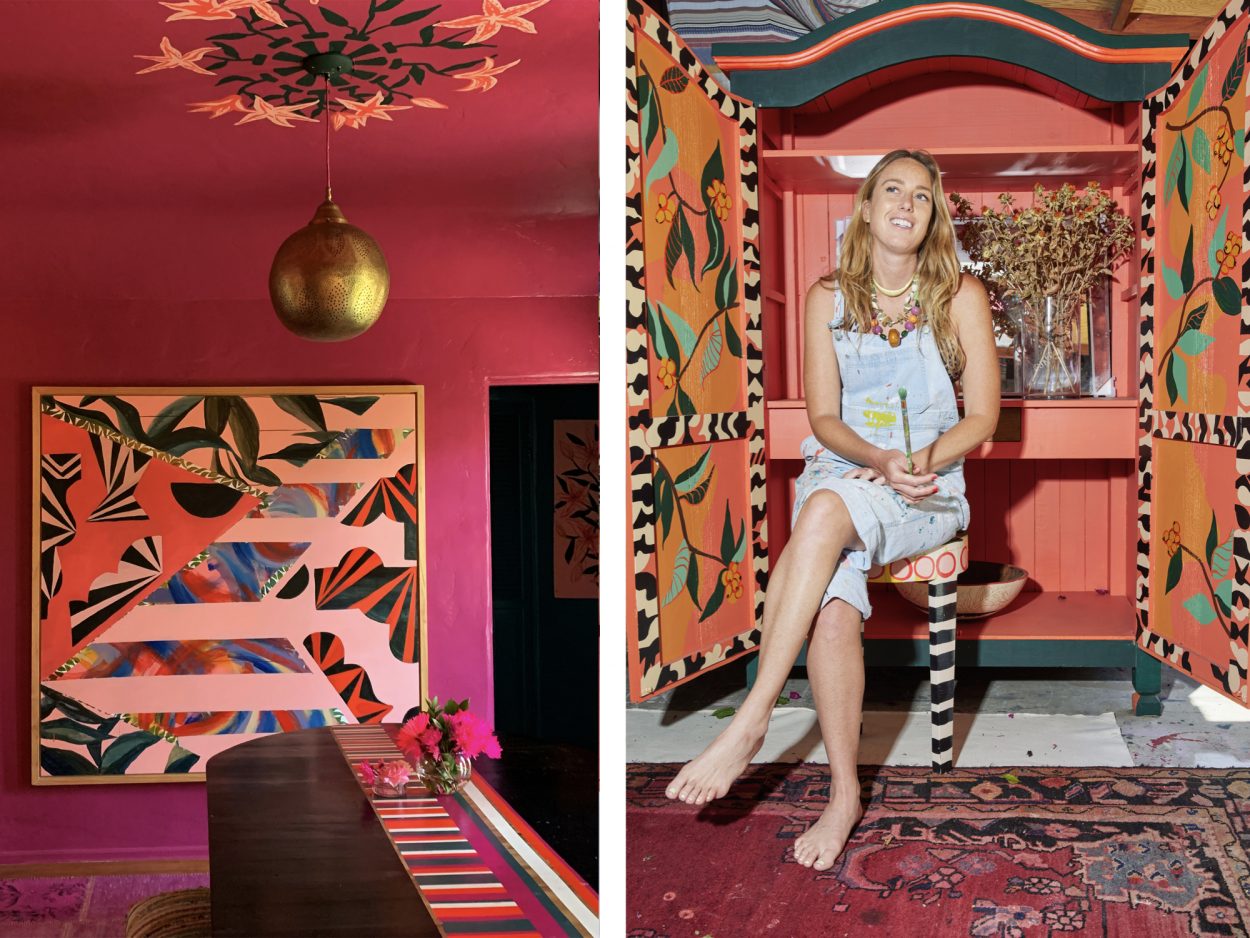 It's remarkable that people haven't put more effort into creating beautiful workspaces. Environment has such a big influence on mood.
It is enormous. During the pandemic, when I realized I was going to be working more from home, I decided that if I was going to do graphic design in the same room every day, I should probably paint the walls orange. The room needed to feel good because I can't spend all day doing creative work with a blank wall.
What effect did this have? What kind of influence does color have on your state of mind?
It makes the room feel like a heartbeat. The color is warm and comfortable. When I use color in my work, it's a feeling. And I know immediately if it works or not. Do I like the way it feels? What atmosphere does it give off? Some colors are not good in a work environment. It comes down to intention. You can't pretend. MMaking thoughtful choices is so important when designing spaces. It really makes your life experience better or worse.
All stories
Previous Next